Following the major relaxation of China's quarantine measures for inbound travellers in January, the latest edition of PLSG is ready to welcome overseas exhibitors and buyers to participate at the trade fair in person. The fair will feature over 1,250 exhibitors and is expected to attract more than 70,000 visitors. Many key local industry players and globally renowned brands have confirmed their participation, including: ACE, ACME, Audinate, Audio-Technica, BMB, Bosch, Bose, Cadac, Charming, Danacoid, DAS Audio, DMT, Eagle Truss, EM Acoustics, EZ Pro, Fidek, Funktion-One, Golden Sea, Gonsin, Harman International, Hikvision, IAG, ITC, Longjoin Group, Mode, Neutrik, Pioneer DJ, Polar Lights, RCF, SAE, Sennheiser, Showven, Shure, Soundking, Star-Net, Taiden, Takstar, TW Audio, Yamaha and more.
Prolight + Sound Guangzhou 2023 hall plan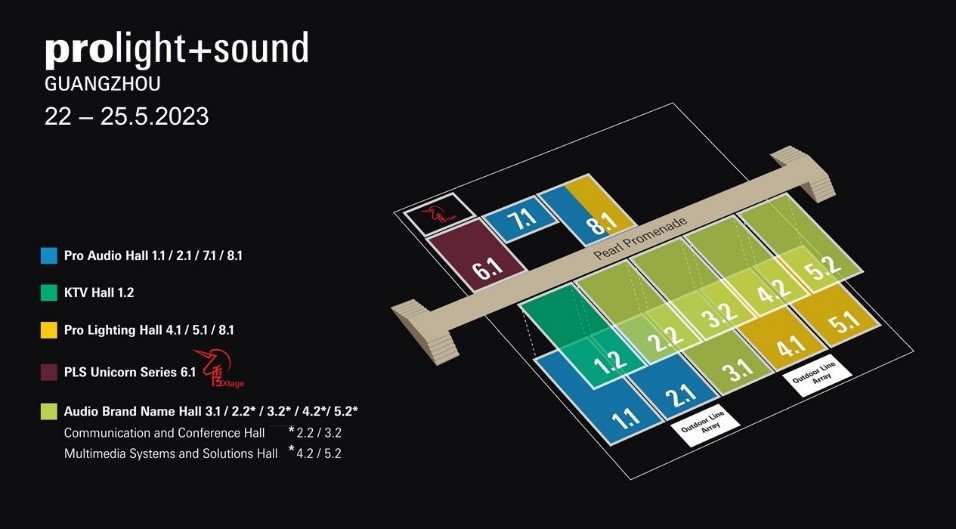 Strategic hall planning to maximise potential of digital entertainment landscape
The 2023 show will gather the full spectrum of entertainment and pro AV products and technologies categorised under five key product halls.
Multimedia Systems & Solutions  (Halls 4.2 and 5.2)
Trends in digital transformation and advances in connectivity are currently the major driving forces in the entertainment and pro AV market. While networking AV (AVoIP) continues to evolve, end-users are also demanding higher quality pro AV solutions that deliver better content and audience engagement. To cooperate more deeply with other industry players amid this changing business landscape, suppliers will demonstrate their innovative ways to incorporate networking, cloud computing, analytics, big data, and AI applications in the Multimedia Systems & Solutions Halls.
Communication & Conference (Halls 2.2 & 3.2)
In recent years, virtual conferencing and productivity tools became indispensable to the operations of many businesses and this demand is expected to remain high. The two thematic halls will gather the latest microphones, conference systems, public address systems and networks, as well as AV and communication systems, providing trade buyers with a wide variety of cutting-edge digital communication solutions.
Pro Audio (Halls 1.1, 2.1, 7.1 & 8.1)
As global business returns to normal, many tourism, live event and nightclub venues are installing new audio and sound reinforcement systems. The Pro Audio Halls will echo these trends and showcase the latest pro audio products, as well as parts and accessories.
Pro Lighting & Stage Equipment (Halls 4.1, 5.1 and 8.1).
By implementing the latest technologies in staging and other forms of performing arts in theme parks, museuems as well as science centres, the cultural tourism sector is unleashing creativity and generating a great number of business opportunies for the traditional entertainment industry. Cross-sector collaboration, such as the use of outdoor lighting at cultural sights and stage equipments at scenic spots, will be demonstated in the Pro Lighting Halls.
KTV and Theatre K. pub (Hall 1.2)
The household market is another area that is seeing a steady progression. The KTV Hall will display an array of products and solutions ranging from KTV systems to new and innovative home entertainment equipment, such as in-home karaoke consoles and home theatre systems. Live-streaming products, which have soared in popularity in recent years will also be one of the spotlights at the hall.
Reaching out to professional buyers from around the world
With China reopening its border, PLSG is leveraging its strong tie-ups with various local and overseas industry associations in Brazil, Egypt, Germany, Japan, Korea, Taiwan, Thailand, the UK and the USA by inviting experts and industry peers to attend the show physically in Guangzhou. A large delegation of Taiwan entertainment technology distributors and manufacturers from the Entertainment Equipment Industry Technology Association (EEITA) has confirmed their attendance.
The global e-commerce giant, eBay, will also make its first appearance at the fair. Their sharing on online business insights will be beneficial in reconnecting the export-oriented exhibitors from China with high-quality global buyers.     
Prolight + Sound Guangzhou is organised by Messe Frankfurt and the Guangdong International Science and Technology Exhibition Co Ltd (STE). For more details about the show, visit www.prolightsound-guangzhou.com or email plsgz@hongkong.messefrankfurt.com.
Other shows under the Prolight + Sound brand include:
Prolight + Sound
25 – 28 April 2023, Frankfurt
Prolight + Sound Middle East
2023, Dubai
Press information and photographic material:
https://prolight-sound-guangzhou.hk.messefrankfurt.com/guangzhou/en/press.html
Social media:
Facebook: Prolight and Sound China
LinkedIn: Prolight and Sound China
WeChat: @prolight-sound 


Background information on Messe Frankfurt
The Messe Frankfurt Group is one of the world's leading trade fair, congress and event organisers with their own exhibition grounds. With a workforce of some 2,200* people at its headquarters in Frankfurt am Main and in 28 subsidiaries, it organises events around the world. Group sales in financial year 2022 were around €450 million*. We serve our customers' business interests efficiently within the framework of our Fairs & Events, Locations and Services business fields. One of Messe Frankfurt's key strengths is its powerful and closely knit global sales network, which covers around 180 countries in all regions of the world. Our comprehensive range of services – both onsite and online – ensures that customers worldwide enjoy consistently high quality and flexibility when planning, organising and running their events. We are using our digital expertise to develop new business models. The wide range of services includes renting exhibition grounds, trade fair construction and marketing, personnel and food services. Sustainability is a central pillar of our corporate strategy. Here, we strike a healthy balance between ecological and economic interests, social responsibility and diversity.
For more information, please visit our website at: www.messefrankfurt.com/sustainability. With its headquarters in Frankfurt am Main, the company is owned by the City of Frankfurt (60 percent) and the State of Hesse (40 percent). For more information, please visit our website at: www.messefrankfurt.com
* Preliminary figures for 2022